Would You Pay $70,000 for Your Vacation? Don't Laugh, Many Do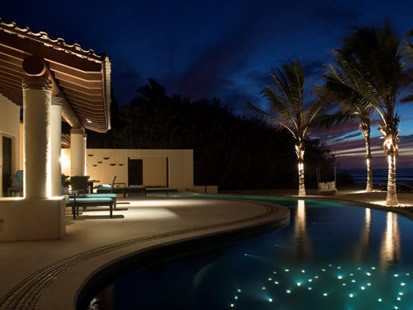 Linda Landers and her husband, Jim, wanted to see the world but didn't have time to plan a complicated route hopping from one continent to another.
Then Linda learned about a $70,000 per person private jet trip that would allow the Arkansas couple to see nine countries in 23 days.

They booked immediately.
"It was such good value for what you got," Landers said, "even though it was a terribly expensive trip."
The Landers are members of an elite travel club that indulges in lavish vacations that go well beyond first class.
For those who can afford it, there are a growing number of options at the gilded top of the luxury travel market.
The Landers went on a trip, dubbed the Nine World Wonders, offered by tour company Abercrombie & Kent. It included stops at Easter Island, ruins in Cambodia, the lost city of Petra in Jordan and the pyramids of Egypt.
Linda works in home construction and interior design, and Jim is a doctor. She said that planning such a complicated trip would have taken a lot of time and research.
"We're both working so much. We didn't have time to fool with this," Landers said. We just wanted to get on the plane and relax."
Abercrombie & Kent took care of the couple's travel visas, hired guides, provided local currency at each stop and even arranged a private museum tour by the curator before the building opened to the general public.
"We didn't have to do a thing," Landers said. "It was like being the president of the United States for three and a half weeks."
Most Americans can't afford such a trip costing $140,000 per couple. That's more than three times the median household income, which stood at $46,242 in 2005, according to the U.S. census.
But those who can afford it are increasingly shelling out big bucks for grander vacations than those taken a generation ago.
A Growing Market
There is very little data on this market because it is so small, but what is out there shows the general luxury travel industry is growing at a steady clip.
On average, room rates for luxury hotels in the first three months of 2007 increased 7.2 percent to $292.51, while the overall hotel market went up 6.1 percent, according to Smith Travel Research, a hotel-benchmarking firm.
Luxury rooms were also occupied more often then regular rooms. The luxury segment increased occupancy by 2 percent, while the overall hotel occupancy rate stayed essentially flat, with a 0.3 percent increase.
"Luxury outperforms the general market," said Jan Freitag, a vice president with Smith Travel Research.
Even for Abercrombie & Kent, private jet trips are a very small part of the overall business. The company sells tours to about 20,000 people a year. Just 100 of those go for the private jet trips.
The company's first such trip was in 1989 and took travelers to seven world capitals, according to George Morgan-Grenville, president of Abercrombie & Kent's North American operations.
In the 1990s, the company ran private tours on the Concorde. After 9/11, there was not as much of an appetite for these trips, Morgan-Grenville said. But now the company is expanding the private jet trips again as the rich look for new and exotic adventures. Three were done this year, and six or seven are planned for next year.
Abercrombie & Kent's next private jet tour to South America will cost $73,750 per person. It sold out within three weeks of being announced.
"Nowadays, people want to be much more off the beaten track," Morgan-Grenville said, describing the trips. "The whole ethos of the baby boomer traveler, you can't cookie-cutter your services. Everybody wants something different."
That means that while there are 48 people on the tour, several small private side trips are built into the itinerary.
Morgan-Grenville said that his clients don't want to travel halfway around the world to go to a tourist restaurant.
"It's going to a little bistro that's tucked away down an alleyway that's not in a guidebook that doesn't have white-glove silver service," he said. "It might be a mom and pop little restaurant with four, five tables."
Morgan-Grenville explained that travelers today want to see more and more remote sites. But the farther outside populated areas they travel, the harder it is to find upscale amenities. In some places, Abercrombie & Kent has to fly in its own sheets and towels. Other times, creature comforts are sacrificed to lend a more "authentic air" to the experience.
"You can go and stay at a Four Seasons wherever you want. Today, it's not a novelty for people to do that. What is a novelty is having an incredible experience in an incredible location,"
Morgan-Grenville said. "The previous generation, they were very happy to be shown things. These guys, they don't want to see something. They want to participate in it."
The $30,000 Hotel Room
Other parts of the travel industry are also expanding their ultra-high-end products.
The Four Seasons hotel in New York has two presidential suites that cost $15,000 a night. The company won't provide detailed occupancy figures but says the suites are rented out more than half of the nights in the year.
For the past six years, the Four Seasons has been building a penthouse suite that will rent for $30,000 a night when it opens up this summer. The 4,300-square-foot room will have 24-foot floor-to-ceiling windows and cost $45 million to build, according to the hotel. Few details are being shared about the project, which will first be unveiled to the world in the pages of Architectural Digest.
Just a few blocks away, the Peninsula offers a two-bedroom Peninsula suite for $15,000 a night. If you've got a large, well-heeled group, a connecting suite can be added, bringing the nightly bill to $17,500.
If those rooms are booked, a rich guest can try the Mandarin Oriental across town, which offers a 2,640-square-foot presidential suite for $14,000 a night.
For those looking to escape the city, the Four Seasons Resort Punta Mita in Mexico offers a five-bedroom suite for $15,000 a night. The 9,150-square-foot suite offers its own entrance, a private gym and spa treatment area, home theater and pool.
"Entourage travel is a growing segment, not only among celebrities, which we certainly get our share of, but also among families and business groups," Christian Clerc, regional vice president and general manager for Four Seasons said in a statement. "Those typically traveling with an entourage seek privacy, luxury and the finest experiences the resort has to offer.
Representatives of the New York hotels said the suites were most often booked by families.
Luxury on the Rails and Seas
For those who want to travel and stay on the move while catching some sleep, there are also plenty of top-end options.
The Venice Simplon Orient Express has long been known for its luxurious train travel.
The company offers several routes today, with the longest being the famous Paris-Budapest-Bucharest-Istanbul leg. The five-night trip costs $7,690 one way.
While some seek high-end travel as a way to escape into their own private world, the Orient Express lets people promenade in their best.
"The historic decor of the train and its atmosphere means travelers can never overdress on the Orient Express," the company said. "Evening wear for gentlemen is a business suit or black tie, with formal dinner dresses for women."
Those looking for even more flexibility can charter their own yacht. Some of the larger vessels can be rented for up to $180,000 a week. That does not include food, liquor, docking fees or fuel, which usually add an extra 25 to 30 percent on top of the rental fee. The crew will also expect a tip of 15 percent to 20 percent. Some of the super-rich have shelled out a shocking $500,000 a week for a berth on these super yachts.
Kenny Wooton, executive editor of Showboats International, a magazine covering yachts 100 feet long and larger, called these yachts "the best-kept secret in travel."
These boats typically can pamper six to 12 people and include large bedrooms, living rooms, dining rooms and rooftop hot tubs.
Take Kaleen, a 130-foot yacht that charters for $80,000 a week from the International Yacht Collection in Fort Lauderdale, Fla. The main stateroom features a California king bed, walk-in closet and the bathroom has a whirlpool.
Remember, this is a boat.
"If you wake up at 4 o'clock in the morning and you want a sardine omelet and they don't have sardines onboard, they'll send a diver out to get sardines," Wooton said.
The other advantage: "If you don't like the beach, restaurants, the town, you move," Wooton said.
So, where is the luxury travel market heading next?
Morgan-Grenville said that travelers will seek more and more exotic places further off the beaten track.
But, he added, the next big market will be travel to outer space, most likely beginning with suborbital flights.
"Part of travel is to include what is generally termed as bragging rights," he said. "You have to remember that only 400 people have been into space."
https://lprluxury.com/wp-content/uploads/2022/03/lprluxury-forbes-logo.jpg
0
0
admin
https://lprluxury.com/wp-content/uploads/2022/03/lprluxury-forbes-logo.jpg
admin
2007-05-01 09:34:00
2007-05-01 09:34:00
Would You Pay $70,000 for Your Vacation? Don't Laugh, Many Do